1997
L: 110cms H: 130cms
Watercolour on paper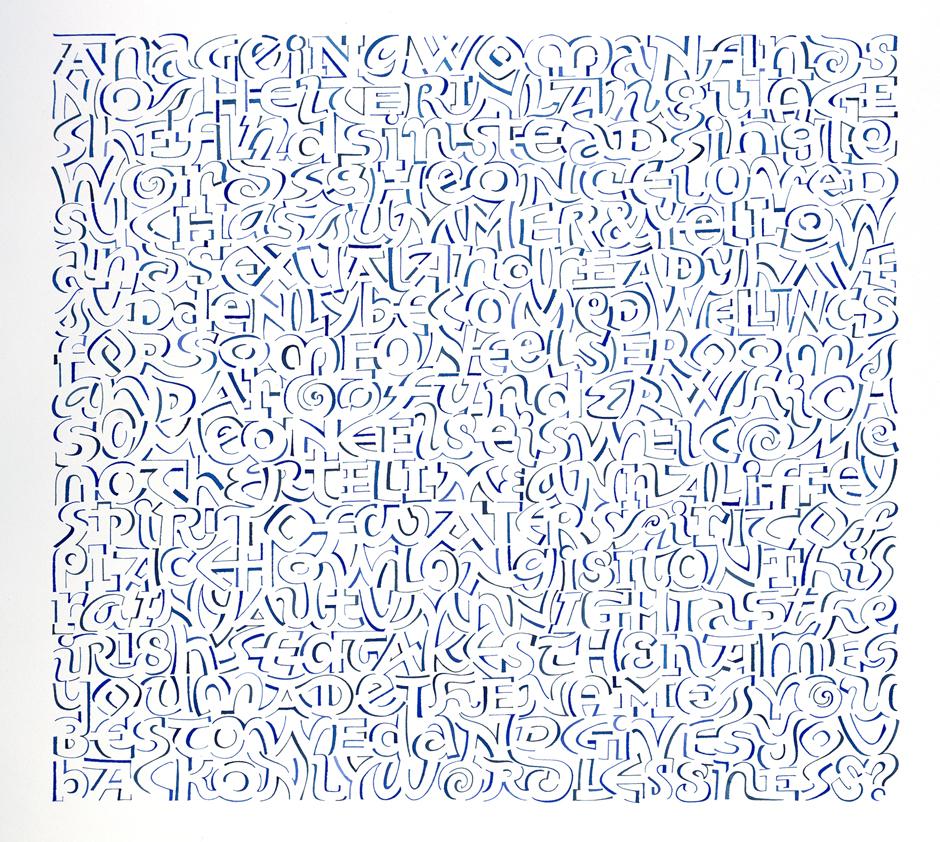 Words from 'Anna Liffey' by Eavan Boland reproduced by courtesy of Carcanet Press
An ageing woman
Finds no shelter in language.
Single words she once loved
Such as 'summer' and 'yellow'
And 'sexual' and 'ready'
Have suddenly become dwellings
For someone else
Rooms and a roof under which someone else
Is welcome, not her. Tell me,
Anna Liffey,
Spirit of water,
Spirit of place,
How is it on this
Rainy Autumn night
As the Irish sea takes
The names you made, the names
You bestowed, and gives you back
Only wordlessness?
The poet Eavan Boland recalls her life-journey as a writer, mother, wife and returnee to Ireland in this auto-biographical poem, Anna Liffey. (Only a few lines are exhibited here.) Perhaps it was these words that started me thinking about the place of language in memory. 'An ageing woman / finds no shelter in language…' Later, in the poem's concluding stanza she reminds the reader about the limitations of language:
And so
When language cannot do it for us,
Cannot make us know love will not diminish us…
The complete work follows the poem's eight sections and is designed to hang in various parts of a home: in different rooms and outside in the garden. This reflects the domestic setting of the poem and explores the idea of reading poetry when least expecting to. (At that time I had small children and sometimes found myself awake in the middle of the night with a poorly toddler, reading a snippet of 'Anna Liffey' on the stairs, in the bathroom or in the toilet.)
The words are not meant to be a puzzle. When the usual requirements of legibility are unnecessary, letterforms are freed to be seen as the abstract images they inherently are.