Biography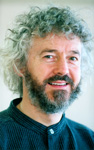 Stephen Raw (born London 1952) has lived in Manchester for the last thirty years. He has been a self-employed artist and designer since he returned to Britain from two years teaching at the National Arts School in Papua New Guinea.
Stephen's work is varied, from paintings in exhibitions through to cover designs for Carcanet Press and his commercial lettering for a variety of clients, including leading publishers, architects and design groups throughout Europe. 'Fundamental to all my artwork' Stephen says, 'is a love of language and how that language is given a visual dimension through signs we simply call letters: never-failing sources of inspiration. Letters are images in themselves and, for me, that's more than enough to be getting on with.'
He has exhibited widely: Germany, Ireland the United States and Italy. One of his paintings, words by Nelson Mandela, is in the collection of the Stiftung Archiv der Akademie der Künste, Berlin. All his book jacket/cover artwork, part of the Carcanet Press archive, is now kept by the John Rylands Research Institute, University of Manchester.
Currently he sits on The Royal Mint Design Advisory Committee, chaired by Sir Christopher Frayling. 
'Sweet Sister Death Has Gone Debauched Today' was exhibited at Parson's School of Design, New York, in 2001 as part of a Glasgow School of Art travelling exhibition. Stephen was a visiting lecturer in Glasgow for 15 years and, until recently, was a part-time tutor on the MA Design Course, Manchester Metropolitan University. He occasionally lectures there still.
He is a frequent visitor to the Isles of Mull and Iona where  the people and landscape have inspired many pieces including 'Kilvickeon' and 'Isle of Mull Diary'.