'Rings' – a poem written by the Poet Laureate, Carol Ann Duffy, celebrates the 'unbreakable relationship between love and poetry'.
Carol Ann invited 20 colleagues (including Jackie Kay, Roger McGough and Gillian Clarke) to write on the theme of 'Vows' on the occasion of the wedding of Prince William and Catherine Middleton. These were published by the Guardian on 23 April 2011 - link below.
A watercolur artwork by Stephen Raw, reproduced here, has been made into a print with the full poem set in type on the right. There have only been 500 copies printed which are signed by the poet and artist. (Number one was given as a wedding gift to the happy couple.)
The prints are 483 x 329mm and are despatched by Royal Mail special delivery.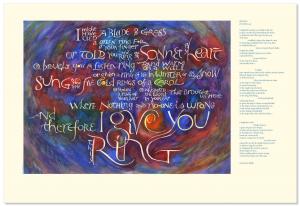 To order a copy send an email from the 'Contact' page on this website with your name and address. Start your email with the words, "RINGS". There are two ways of paying: PayPal or Cheque. Stephen will reply with a PayPal invoice or the address to send your cheque to when you have indicated in the email which is your preferred way of paying.
The price is £100, plus VAT and £8.50 for the special delivery p&p: total £128.50. (Overseas purchases will be subject to an additional postage fee dependent on where they live.)
There are still prints available; so far many people have found them to make an ideal wedding / civil partnership present.
A detail of the watercolour lettering: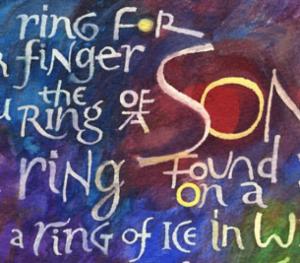 http://www.guardian.co.uk/books/2011/apr/23/wedding-carol-ann-duffy-poet...