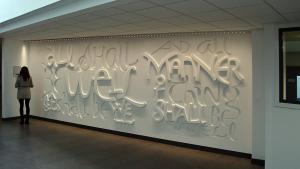 Stephen's design for the new sixth-form Aquinas College in Stockport - has been 'unveiled' at the opening of the £40m building. He was commissioned by the Principal, Ambrose Smith, to use the Julian of Norwich quote: "All shall be well, and all manner of thing shall be well." Stephen's approach was to use his own personal, distinctive lettering in a subtle design that reflects understated Dominican theology. 
The 7 x 2.5m wall was manufactured and installed by Trafford Signs, Manchester, who also installed the Leeds West mural (below).
Leeds West Academy
'Mrs Schofield's GCSE', a poem by Carol Ann Duffy has been unveiled in a wonderful, £30m new building for Leeds West Academy.
Commissioned by the Principal, Annette Hall, this 5m-high installation is sited in the library which has been named after the Poet Laureate.