Positioned near Poet's Corner in Westminster Abbey, Stephen's commission was to celebrate the four founders of the Royal Ballet: Dame Ninette de Valois, Sir Frederick Ashton, Constant Lambert and Dame Margot Fonteyn. Stephen has done this using his distinctive lettering style contrasting with formal capitals for the words THE ROYAL BALLET, THE FOUNDERS - see photo.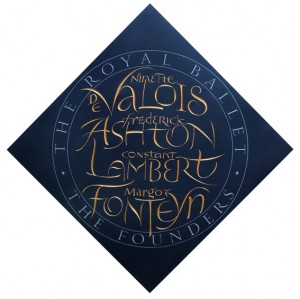 The finished stone now in the floor of the south transept of Westminster Abbey © Stephen Raw  
The stone's champion, Sir John Tooley (past director of The Royal Opera House), had sought a fitting memorial to the founders in the Abbey for many years. He worked closely with Stephen and successfully saw the design through the various committees. Stephen's design, cut in Cumbrian slate by one of Britain's leading letter cutters, Annet Stirling of Incisive Letterwork, also has the added attraction of having the four names in gold. This is the first such use of gilding in an Abbey floor memorial.
The expectation is that many from the world of ballet, including people who just simply love the art of dancing, will go to the Abbey to see the memorial stone and pay their respects.
Photos from the Abbey service can be seen on The Ballet Association site:
http://www.balletassociation.co.uk/Pages/company.html
Dame Monica Mason, director of The Royal Ballet said: "It is a fitting honour that the founders of The Royal Ballet are recognised. Dame Ninette de Valois worked tirelessly to establish her companies and school. With Frederick Ashton, Constant Lambert and Margot Fonteyn, she brought ballet to a huge new audience. Through their immense contribution, ballet in Britain is now a thriving art form and The Royal Ballet, Birmingham Royal Ballet and the Royal Ballet School are known throughout the world."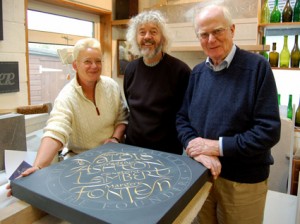 Annet Stirling, Stephen Raw and Sir John Tooley inspect the stone before it was laid in Westminster Abbey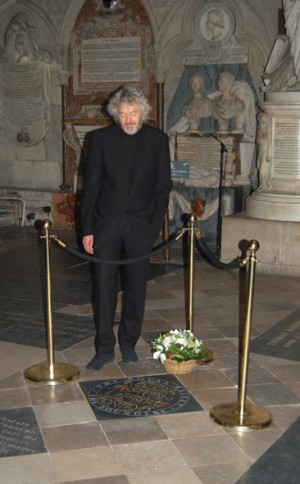 The stone is situated very near Handel's memorial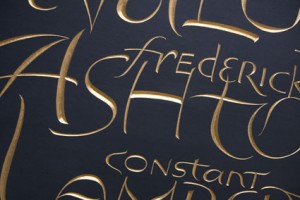 A detail of the gold lettering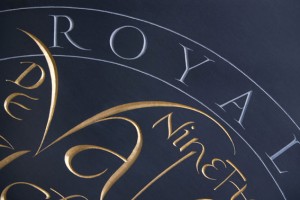 Detail of the lettering