Exhibitions
Andrew Motion on Stephen Raw
Lethaby Gallery 13 May 2003
Transcript of Andrew Motion's opening remarks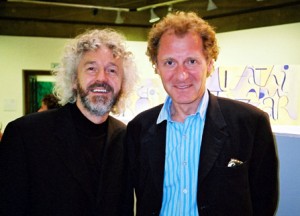 At the end of her novel Middlemarch, George Eliot invites us to remember the unremembered dead, who rest in unvisited tombs. It makes a great democratic end to a great book about democratic feelings (or the lethal lack of them) and the need to communicate across all kinds of boundaries. And it's a good place to start when we're thinking about Stephen Raw's work. Its central commitment is to remembering, as the title of the show, Memory Language, tells us, and all its linked techniques are dedicated to exploring the ways in which we need to talk to one another – across languages as well as in them, across time as well as in it.
'Kilvickeon', for instance, takes a remote burial site on the Isle of Mull as a place of remembering. As Stephen has said himself, 'the headstones you see [there] today appear to represent the sum total of people buried there, but nothing could be more misleading. The vast majority of the people buried at Kilvickeon in the last 1,400 years have no headstone, no marker of any description. Their memories, and the memories of those who buried them, have gone 'unkept'.' Well, they have until now. In Stephen Raw's painting, which is perhaps better described as a palimpsest, he doesn't so much recapture what has been lost – that would be simply impossible – as remind us of losses, of absences, in a way which is at once tangible and elusive. It honours the deadness of the dead as much as it does their continuing spectral existence.
Elsewhere in the exhibition we find more specific kinds of recall – both the recall of personal memories, and the recall of experience that is shared, or public. The Sarcophagus/Altar inscribed and decorated with Wilfred Owen's poem 'The Parable of the Old Man and the Young', which itself remembers the bible story of Abraham and Isaac, is an unmissable case in point. Part coffin and part altar, the object is at once worshipful and an emblem of sacrifice. And so of course are the words of the poem. And so are the ways that Stephen Raw has given them to us. On the one hand they are beautifully imagined and pictorialised, against a purpose background that is simultaneously ecclesiastical and deathly; on the other they struggle against their conventional shapes. They hold ceremony and dismay in a fine balance.This is typical of Stephen's work generally. He began his public life in letters, I think I'm right in saying, with an involvement in a book jacket design, often producing very beautiful and sometimes startling effects by distorting letters as well as displaying them. What these designs show, apart from anything else, is Stephen's willingness to think of words as things in themselves, as well as signs by which we receive various kinds of meaning. We admire their self-sufficient shapes. But at the same time, the designs also remind us that there is no easy separation to be made between the pictorial value that a letter might have, and the meaning it contains when set alongside other letters. Stephen's art, in other words, makes an implicit and continuous appeal for harmony and unity (communication in the widest sense), even – perhaps especially – when it deals with such subjects as loss, division or conflict. Tellingly, his piece called 'Justice' takes off from a quotation from the late Lord Soper: 'Peace is the fruit of justice and can grow on no other tree'.
'A Book of Remembrance', which might sensibly be called the centrepiece of this show, brings all these themes together. We are used to the idea of the dead being commemorated in ways which do honour to public service – our town squares, public parks and village greens readily prove this. The private dead, if I can call them that, tend to get less than their due. This is what the 'Book of Remembrance' puts right. It preserves names that Stephen took from bulletins published by Amnesty International – ordinary names of ordinary people who were torn out of life while they went about their ordinary business. Thirteen-year-old Lian Jonathan Caceres Herrera, for instance, who was killed by police in Caracas as he went to have his hair cut. 'I imagined that [such people] would want to be remembered first and foremost for their living,' Stephen has said, 'not just for the brutal way in which they were killed.'
Quite so – but the compassion of this piece is evident everywhere in this gallery. The show practices an art which is as old as the hills, and yet makes it seem brand new. It is about the inestimable value of communication as well as the means of communication itself. It slows down language so that we can dwell on it and in it, but also accelerates its passage into our heads and imaginations. I'm honoured to have been asked to declare Memory Language open, and now do so with very great pleasure.
copyright © Andrew Motion 2003