'This exhibition bursts into colour and physical form in the work of textual artist Stephen Raw and Duffy's poems . . . and is a wonderful combination of visual, verbal and audio pleasures.'  SCOTTISH POETRY LIBRARY
Click on this link for a short video about a few of the pieces in the exhibition:
http://www.royalcollection.org.uk/exhibitions/poetry-for-the-palace-poet...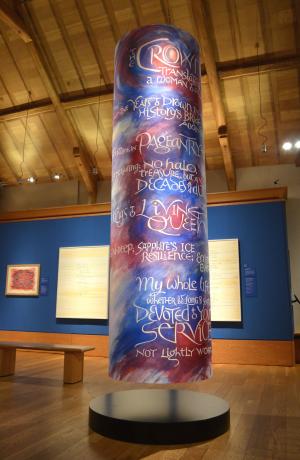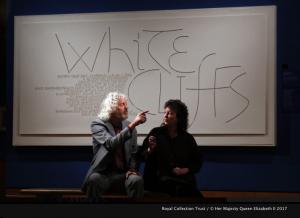 http://www.scottishpoetrylibrary.org.uk/connect/blog/thursday-post-poetr...
'Poetry for the Palace' was an exhibition about Poets Laureate including the present incumbent, Carol Ann Duffy. Stephen's artwork illuminated 12 of her poems which were exhibited in the magnificent Queen's Gallery of the Palace of Holyroodhouse in  2104.
Press:
http://www.theguardian.com/uk-news/2014/aug/06/poet-laureates-edinburgh-...
http://edinburghfestival.list.co.uk/article/63156-edinburgh-art-festival...
From the Royal Collection website: The office of Poet Laureate is a special honour awarded by the Sovereign to a poet whose work is of national significance. 
This exhibition celebrates the work of the current Poet Laureate, Carol Ann Duffy, at the half-way point in her laureateship.
It explores the role of the Poet Laureate, and the close relationship between poet and monarch over the last three and a half centuries. It brings together presentation volumes, original manuscripts, annotated collections of poetry and remarkable images of poets, including John Dryden, William Wordsworth, Alfred, Lord Tennyson, John Betjeman and Ted Hughes. 
Below: One of the exhibits, a watercolour by Stephen Raw, from Carol Ann Duffy's poem 'Virgil's Bees'.